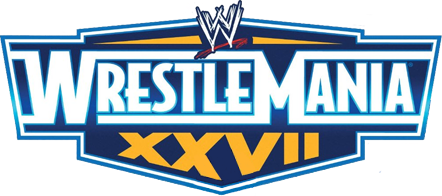 OSR: WWE WrestleMania 27 Review
Back in 2011, the WWE invaded the former home territory of their once rival, WCW. With a crowd of 71,617 watching on inside the Georgia Dome, The Rock made his long-awaited return following a 7-year exile. Relive the events of April 3 2011 in the WWE WrestleMania 27 Review…
Inside the Georgia Dome, Keri Hilson sang her version of "America the Beautiful" which was actually quite short. We then quickly went to an opening promo, which resembled something from The Generation Game. There were small mentions of both the RAW and SmackDown brands, but the attention was mainly focused upon The Rock. Back inside the dome, The Rock made the longest entrance ever to the ring, to a surprisingly timid reaction. The reaction started to pick up when he took to the microphone. He cut a typical The Rock promo, before leaving.
The opening montage for the show was shown, which was based around various WrestleMania moments before a focus was put on the various matches which were scheduled. This was a very amateurish opening promo. The commentators for the event were Michael Cole, Jerry Lawler and Josh Matthews before the show finally got underway. 
---
1. World Heavyweight Championship: Edge (c) (w/ Christian) vs. Alberto Del Rio (w/ Ricardo Rodriguez and Brodus Clay)
At the time, the significance of this match wasn't realised. Both men made their way to the ring and the match quickly got underway with both men having their opportunity at dominance. Alberto became the dominant force, despite some comeback attempts by Edge.
Despite Alberto continuing his dominance, Edge was able to pick up the win following a spear. In honesty, the match was slightly mediocre with what can be deemed as a weak finish.
After the match, Edge made his way out of the Georgia Dome and proceeded to trash Del Rio's Rolls Royce. It is difficult to see what was achieved in all honesty, because it cannot be seen how this fitted in with the character of Edge.
Winner: Edge, to retain the World Heavyweight Championship
Match Rating: 2.5 out of 5.0 Stars
---
2. Cody Rhodes vs. Rey Mysterio
A couple of brief couple were shown, going back to when Cody had his nose shattered by Mysterio. This prompted the new gimmick of being "hideous". Anyhow, the match got underway with Rhodes in control of the match. Cody used great technique to remain in control of the match.
Mysterio was able to mount a comeback, and it looked like he may have a chance at winning. Ultimately, it was Cody's gimmick of being "hideous" which ultimately gained the upper hand and allowed Cody to become victorious in the match.
Personally, the gimmick of Cody's here was pretty cool because compared to everything else, it was different to everything else. The match itself wasn't as good as it could have being. It wasn't necessarily bad, but it could have being so much better.
Winner: Cody Rhodes
Match Rating: 2.0 out of 5.0 Stars
---
3. The Big Show, Kane, Santino Marella and Kofi Kingston vs. The Corre (Wade Barrett, Ezekiel Jackson, Heath Slater and Justin Gabriel)
Both teams made their way to the ring, but their entrances were longer than the actual match. It was essentially a squash match after The Big Show picked up the win over Heath Slater following a knockout punch. Matches like this are really despised, especially at WrestleMania.
This was thoroughly pointless, it would have being so much better had it being given enough amount of time to develop but also the right team winning. That would have being far more beneficial.
Winners: The Big Show, Kane, Santino Marella and Kofi Kingston
Match Rating: 0.5 out of 5.0 Stars
---
4. CM Punk vs. Randy Orton
The history package for the match was shown, which to its credit played on a moment from a couple of years earlier. Both men made their way to the ring, with Orton being dominant in the very early moments until Punk exploited Orton's knee injury to gain the momentum.
He used a whole variety of ways to remain in control of Orton, and did so for the majority of the match until an aerial attack by Punk was countered into an RKO, allowing Orton the win. This was not a bad match, it was told brilliantly by Punk but in honesty it felt quite withdrawn and held back.
Winner: Randy Orton
Match Rating: 2.5 out of 5.0 Stars
---
Back inside the Georgia Dome for the Hall of Fame Class of 2011 Inductees, who were: Abdullah the Butcher, Sunny, The Road Warriors, Paul Ellering, Drew Carey, Bob Armstrong, Jim Duggan and Shawn Michaels.
---
5. Jerry Lawler vs. Michael Cole (w/ Jack Swagger) with Special Guest Referee Stone Cold Steve Austin
A brief clip from RAW was shown where Lawler attempted to get to Cole. Surprisingly, there wasn't anything else shown for the match considering it dated back to December. Josh Matthews was joined by Booker T and JR on commentary for the match.
Cole then made his way to the ring, and cutting a promo in the process before he was joined by Swagger, They were quickly interrupted by Stone Cold who made his way to the ring and mocked Cole. Lawler then made his way to the ring.
Lawler was initially dominated by Cole, who looked about as green as they can come. Eventually, Lawler mounted a comeback and made Cole tap out to the Ankle Lock.
After the post-match celebration, the anonymous RAW GM sent an email saying that he was reversing the decision and Lawler had being disqualified. That match was truly pants, Lawler deserved so much better in his first WrestleMania.
Winner: Michael Cole, via Disqualification
Match Rating: 0.5 out of 5.0 Stars
---
6. No Holds Barred: The Undertaker vs. Triple H
The history package for the match was shown, which in all honesty made me think this feud was cobbled together out of desperation due to alternative plans not coming to fruition. Anyhow, Triple H made his way to the ring first in a slightly bizarre and extravagant WrestleMania style entrance.
He was then followed by Taker, and the match got underway as very much a brawl. Triple H was very much the dominant force in the early moments, and really took it to Taker. Taker eventually gained some momentum, and nailed his infamous suicide dive whilst almost killing himself.
He was then nailed with a spinebuster through the announce table, but it didn't keep him down long as he took a whole variety of steps to be victorious. He isn't successful at this moment, and Taker becomes increasingly frustrated after Triple H kicks out of a Last Ride and a Tombstone.
Triple H then nailed Taker with numerous pedigrees, but was unsuccessful and became increasingly frustrated with how it was panning out. He then dissected Taker with a chair, who refused to stay down and kept getting back up.
He then nailed him with a Tombstone, but Taker once again kicked out and started to get backup. Triple H then resorted to the sledgehammer. As he mocked Taker with it, Taker proceeded to lock in the Hell's Gate submission.
After having him locked in the hold for what seemed like an eternity, Triple H eventually tapped out giving Taker the win. After the match, Triple H was able to walk out of the arena but Taker keeps falling back down as he attempted to leave. He was eventually chartered out of the Georgia Dome.
This match was good, the characterization in it from both men really told a fantastic story but in-ring quality was only good. They have certainly had far better contests including WrestleMania X-Seven, but have also had worse like King of the Ring 2002. Still worth watching though.
Winner: The Undertaker
Match Rating: 3.5 out of 5.0 Stars
---
7. Michelle McCool, Layla and Dolph Ziggler (w/ Vickie Guerrero) vs. Trish Stratus, Nicole Polizzi and John Morrison
Vickie made her way to the ring first and introduced her team. The opposing team then made their way to the ring and the action quickly got underway. Unfortunately, this was another nothing match on the show.
Nothing memorable happened in this match to make it stand. In all honesty, Snooki's entrance music was just irritating. She eventually picked up the win over McCool in a match that shouldn't have happened.
Winner: Trish Stratus, Nicole Polizzi and John Morrison
Match Rating: 0.5 out of 5.0 Stars